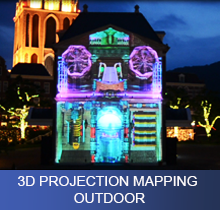 Outdoor 3D Projection Mapping surprises audiences by transforming seemingly ordinary city landscapes and architectural structures into the most exciting spectacles.
It is a great way to celebrate one-off or seasonal events. It can also be used as permanent spectacles to attract and engage visitors at new venues.
Our clients may use this technology to enhance their brand campaigns, seasonal decor, expand exhibitions from indoor to outdoor spaces, and to invigorate large outdoor events like concerts and performances.
—————————————————————————————————————————————————————————-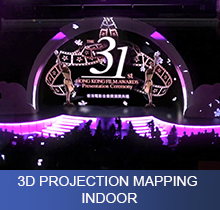 3D Projection Mapping is used in indoor spaces as successfully as in outdoor installations. The projections can make stages and custom-built structures alive. Great effects can also be achieved by mapping on live models, mannequins or products of all sizes, from cars to shoes, to enhance a product launch.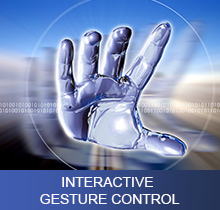 Gesture recognition, to control any screen and entering data using simple gestures.
A wide range of applications for the technology: Adjustable min and max working distance – 20 cm to 10 m for indoor and outdoor use.
Read More
INTERACTION
Using an advertiser's digital advertisng content, Viziware makes it interactive, and then collects analytics about that interaction. By combining software with motion sensors, Viziware dynamically detetcs consumer responses to advertisments projected on almost any surface. Indoors or out, and in any lighting or weather conditions, Viziware captures exhaustive purchase intention analytics that provides retailers and advertisers with new insights into consumer preferences. The result is more precise marketing and advertising, leading to increased sales performance and brand loyalty.
MEASUREMENT
Measurement of the effectiveness is the most important data about customer's behavior. Such source of analytic data is a strong marketing tool. The advertiser gets easily direct feedback about the exact interest of the customer regarding the advertised message: the number of passers-by, the attention paid, the pages visited (if it's about a catalogue viewed), the most interesting items viewed, the gender definition etc.
Multimedia Space Design
Our team will transform traditional event spaces into immersive experiences by incorporating LED walls, plasma screens, 3D video projections on existing or custom-built structures.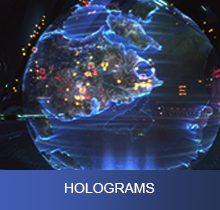 Holograms
Hologram is a three-dimensional image created by photographic projection. The illusions produced may look like floating in the air.
Audience can not only see but also interact with these holograms. Some of the most stunning hologram applications include life-size projections of people that take events and shows to a new dimension.
Examples of applications:
Corporate meetings
Product presentations
Trade shows
Exhibitions
Performances and concerts
Retail marketing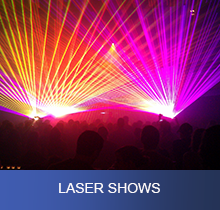 Laser Shows
We design and produce indoor and outdoor laser shows.
Our creative teams design the content of the show and match it with the theme of the event. The perfect music and sound effects, together with optimal lighting, stage design, and performances, can also be incorporated.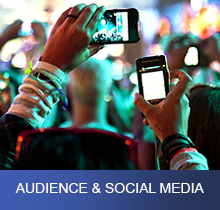 AUDIENCE ENGAGEMENT AND SOCIAL MEDIA STRATEGIES
We create breathtaking experiences. Amazed by things they have not seen before, our audiences talk and share their experiences via social media, therefore boosting our clients' brand and product exposure.
We offer a full integration of the event into social media platforms that audiences use.
Audience generation strategy
Developing and creating event websites
Developing and managing the social media plan in order to extend the life of the event
Analytics to determine events success